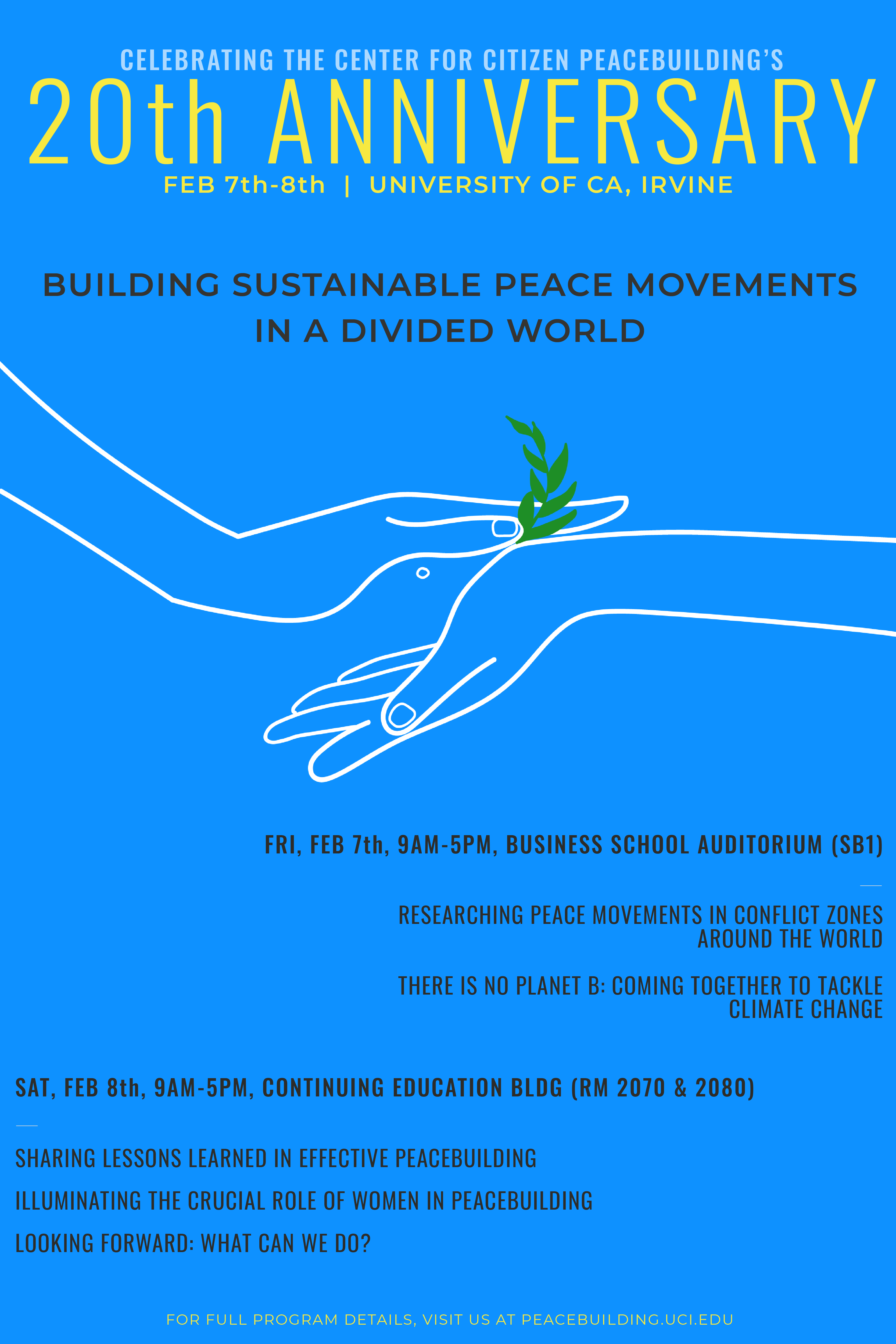 Building Sustainable Peace Movements in a Divided World
Since its inception in 1999, the UCI Center for Citizen Peacebuilding has sponsored faculty and student research, advanced education on the topic, and has organized partnership initiatives to improve and expand citizen peacebuilding in the United States and around the world. Long-term citizen peacebuilding is the most impactful, but we have few examples of decades-plus partnerships in a single context. In acknowledgement and celebration of its 20-year history, the Center has organized a two-day symposium, "Building Sustainable Peace Movements in a Divided World," to discuss with other scholars and practitioners what we have learned from our research and long-term engagement in several case studies. These consist of identity-based violent conflicts in divided societies where citizen peacebuilding is still underway decades after large-scale violence has occurred. In a series of learning sessions on peace and sustainability, our inter-generational dialogues will focus on the research of former students in various conflict zones, the critical role women play in building peace, the impact peacebuilders can have on climate change, the lessons learned from ongoing, long-term citizen peacebuilding partnerships, and how we might do this work better. The examination of citizen peacebuilding is all the more urgent today given the increasingly rancorous political divisiveness in the U.S. and elsewhere. This conference will discuss methods for reducing conflict, preventing violence, and building sustainable peace in our increasingly divided world.
Sponsor: Center for Citizen Peacebuilding, Students for Global Peacebuilding, School of Social Sciences, University of California, Irvine
All events are always FREE and open to the public
For a detailed SCHEDULE OF EVENTS click here!