GANG INTERVENTION TRAINING PROGRAM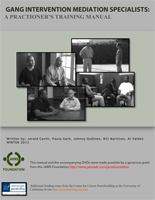 The Center for Citizen Peacebuilding created a gang intervention training program in co-sponsorship with the Orange County Department of Education. The curriculum includes training in mediation and negotiation. It is designed for gang intervention specialists and staff at schools, recreation and community centers, and juvenile detention centers, social workers and law enforcement. We present a mediation training manual and accompanying videos of mediation role plays of gang intervention scenarios. Development of the curriculum was funded by the JAMS Foundation.
Training Manual
The downloadable Gang Intervention Mediation Specialist Manual is a step by step guide that serves to guide and accompany the videos below. Click here to download a pdf copy of the entire training manual.
Training Videos
Step by Step Guide to Gang Intervention Mediation Video Overview
Gang Intervention Mediation Videos
Mediation of a Probation Case Videos
To learn more about this program, please contact Paula Garb, pgarb@uci.edu.
Click here to download a pdf copy of the Training Manual.