2015 Peace Week and Peace and Justice Summit
Here's what you missed during the 2015 Peace Week and Peace and Justice Summit!

All events are always FREE and open to the public
SCHEDULE OF EVENTS
Monday, January 26th
10am - 3pm Peace Week Kickoff: Interactive Booths - Ring Road at UC Irvine
Tuesday, January 27th
5:30pm - 6:30pm Arts for Peace and Justice - Student Center Terrace

Thursday, January 29th
7pm - 9pm Keynote Speaker, Paul Chappell, West Point Graduate, Iraq War Veteran, Peace Leadership Director of the Nuclear Age Peace Foundation, on "Why World Peace is Possible" - Pacific Ballroom (additional information below)

Friday, January 30th
9am - 6:00pm Peace and Justice Summit - Social and Behavioral Science Gateway (SBSG), Room 1517

9:00-9:30am Opening of Summit with Students for Global Peacebuilding and Paul K. Chappell
9:30-10:50am Kingian Nonviolence workshop "Restorative Justice--Practicing Nonviolence Close to Home" with
Kazu Haga (Founder and Kingian Nonviolence Trainer at East Point Peace Academy
11:00-12:20pm Social Justice Panel "Waging Nonviolent Social Justice Campaigns"
OCCCO, OC Immigrant Youth United, 99Rise, OC People For Animals
1:30-2:50pm "Restorative Justice and Peace Education" with La Day Smith (OC Department of Education),
OC Gang Intervention Experts (Project Kinship), Abraham Medina (Boys of Men of Color)
3:00-4:20pm Introduction to Peace Leadership Workshop with Paul K. Chappell
4:45-6:00pm "Voices of UCI Students: Advocacy Roundtable"
and Meeting of the Southern California Network for Peacebuilding
Peace week at UC Irvine is a student led initiative to build a more compassionate community by expanding our knowledge about peacebuilding and nonviolent practices in problem solving. The Arts for Peace and Justice on January 27th and the Lecture by Paul K. Chappell on January 29th were organized by UCI's Students for Global Peacebuilding. On January 30th, the Peace and Justice Summit was organized by Students for Global Peacebuilding and the Center for Citizen Peacebuilding with Student Affairs, Dalai Lama Fellows, UCI's Minor in Civic and Community Engagement, Minor in Conflict Resolution, and the Institute for International, Global and Regional Studies.
For further information, please contact Angelina Dayfallah, adayfallah.nonviolence@gmail.com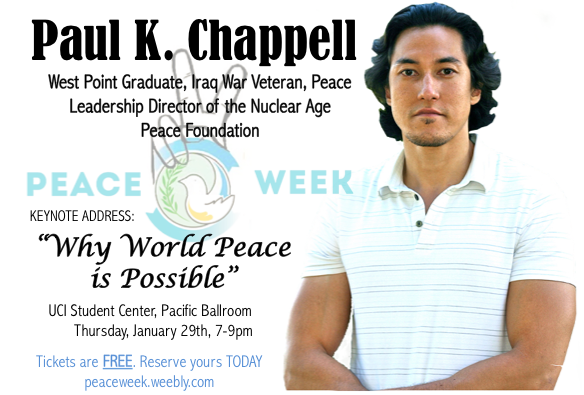 Paul K. Chappell graduated from West Point in 2002, was deployed to Iraq, and left active duty in November 2009 as a Captain. He is the author of the Road to Peace series, a seven-book series about waging peace, ending war, the art of living, and what it means to be human. The first four published books in this series are Will War Ever End?, The End of War, Peaceful Revolution, and The Art of Waging Peace. Chappell serves as the Peace Leadership Director for the Nuclear Age Peace Foundation. Lecturing across the country and internationally, he also teaches college courses and workshops on Peace Leadership. His website is www.peacefulrevolution.com.